Core Set - Star Wars: The Deckbuilding Game
Core Set - Star Wars: The Deckbuilding Game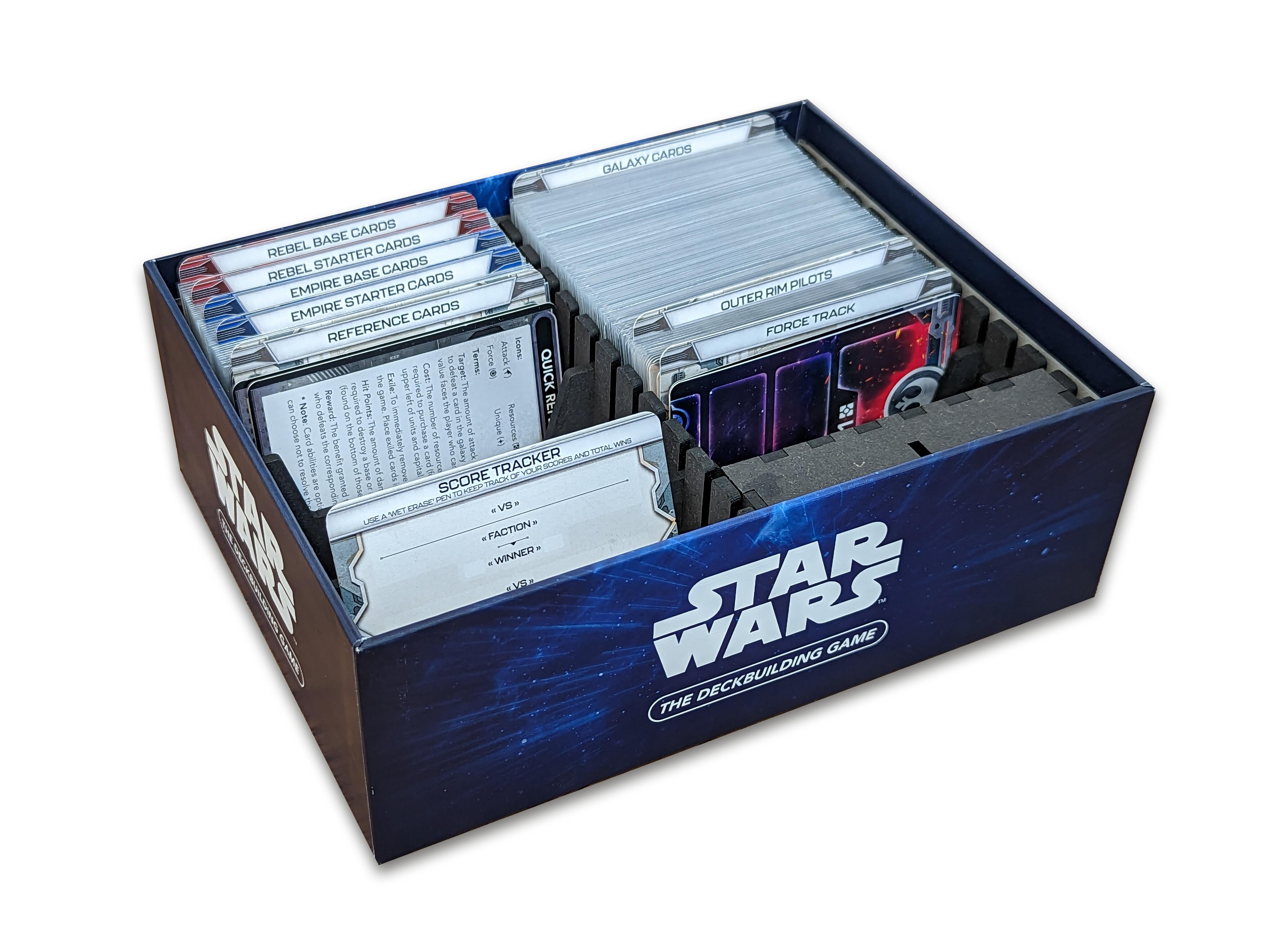 Be the first to review this product.
Tesseract Games
9 double-sided, gloss laminated, sturdy dividers with rounded corners. 
Includes a divider sized score tracker which you can use to track player/faction wins using a 'wet erase' pen.
Pair with our wooden insert, found here, to maximise storage space, add token storage and decrease set up time. 
CONTENTS
Side 1 / Side 2 (where applicable)
Starter Cards 'Empire' / Empire Starter Cards
Starter Cards 'Rebel' / Rebel Starter Cards
Base Cards 'Empire' / Empire Base Cards
Base Cards 'Rebel' / Rebel Base Cards
Galaxy Cards / Used Galaxy Cards
Outer Rim Pilots
Balance of the Force Track / Force Track
Reference Cards
Score Tracker
DIMENSIONS
Horizontal Orientation: 71mm H* x 87mm W
They fit in the original game box. Depending on tolerance of both the game box and our dividers there may be 1mm of box lift.
Vertical Orientation: 98mm H* x 64mm W
Currently not in production but will become available if enough interest is shown through 'back in stock' notifications.

*please note there is a 1-2mm tolerance on the height of our dividers due to the way they are manufactured.
____________________________________________________________________________
The products in this category are a third party, unofficial game accessory. All trademarks and copyrights remain the property of their respective owners, which are in no way associated or affiliated with Tesseract Games.
Send to a friend
Recommend this to a friend by entering their email address in the box below.
For added protection you might want to sleeve your divider sets.
Vertical Orientation: 
We recommend Mayday Premium Gold 65mm x 100mm